School & Youth Photo Gallery
School & Youth Programs
Field Trips
Trout Lake Nature Center has an established history of providing educational field experiences and creating memories for generations of Lake County students. Our PreK through fifth-grade programs has multiple fun learning activities that teach about our natural world, ecosystems, adaptations, interdependence, and more. Specialty programs on species are also available. They include spiders, frogs, black bears, and more. 
Programs are available to meet the needs of multi-age homeschool groups. Homeschool groups can visit on their own or schedule a program. It is recommended to contact the office in advance whenever bringing a group of children to the Trout Lake Nature Center to be sure facilities are available for your planned activities.
These 2-3 hour programs are usually $7 per student with a minimum of 15 paid and a maximum of 50 per day.  Reservations must be made in advance. Contact Shannon Lusk at tlnc.info@gmail.com for complete program information and availability. More Field Trip Information (pdf)
We offer both on and off-site programs for public and private schools, youth organizations, student clubs and homeschoolers. It's well documented that young people do not have the same connection with the natural world as in the past. Technology can inform but there is no substitute for the real world. We offer programs that are not only aligned with grade-level state standards but also incorporate key science concepts in a memorable environment.
The 2023-24 school calendar with possible field trips dates is found in the sidebar and can be used to book your field trip.
---
Grade Level Programs
These programs are modified to meet recommended group gatherings and distancing.
PreK Focus—Real and Living:  Students will understand the difference between real and unreal, living and non-living using puppets, wildlife mounts and education animals and what animals need to survive in the forest. They will learn how animals use their senses to help them find food and to survive.
Kindergarten Focus—Organization and Development of Living Things:  Students will observe plants and animals and describe how they are alike and how they are. Students will recognize that some books and other media portray animals and plants with characteristics and behaviors they do not have in real life.
First Grade Focus—Plants:  Students will learn about the life cycle of plants and trees, and what role the sun and water play in the life of a plant.
Second Grade Focus—Interdependence:  Students will understanding that all living things have basic needs that must be met for survival. Living things are found all over, under, and above Earth, but each is only able to live in habitats that meet its basic needs.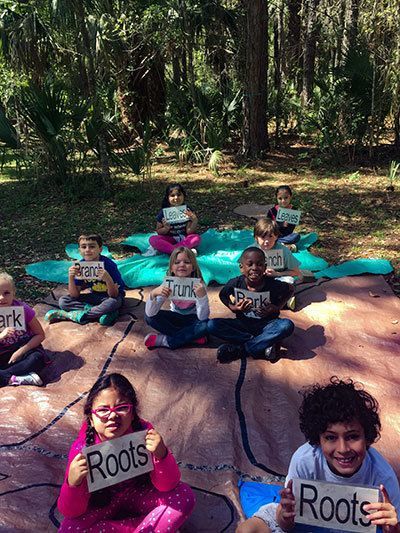 Third Grade Focus—Classifying Invertebrates and Vertebrates:  Students learn to classify animals into major groups, including vertebrates and invertebrates. Students will also look at physical characteristics and behaviors such as body coverings, warm and cold bloodedness, physical size, and population numbers.
Fourth Grade Focus—Interdependence:  Students will learn how plants and animals are interdependent and how they and humans can impact the environment. Using Florida panthers, students learn about heredity and reproduction.
Fifth Grade Focus—Weather:  Students will learn about the different weather instruments used to measure or predict the weather. They will learn to record data from the instruments. Students will observe and compare how temperature and the amount of moisture vary in different microhabitats. Students will learn about four types of clouds (cumulus, cirrus, stratus and cumulonimbus) as they relate to weather. 
---
Special Programs
Special programs were developed to teach about local wildlife or environmental resources. They are both fun and educational and easily adapted for use by scout troops, 4-H groups, and Boys and Girls clubs. They can also be used for special events, such as birthday and holiday parties.
Birds: Students become birds to migrate from the north to the south learning about the many hazards encountered. As "birds", they learn about how each bird's bill is specially adapted for its food or prey. Finally, they build their own birds. 
Bugged Out:  Spiders and Insects (Note: Spiders are more easily found from September through November.) Through discovering spider senses, students learn how these senses are used to detect food or a friend through a spider web game. They take a bug safari on the trails of the TLNC and learn what types of ecosystem each spider inhabits. Spiders come in all shapes and sizes, students learn about the many spider adaptations that help them survive. Each student also learns how spiders produce silk and spin a web of their own. 
Hoppin' Around:  Frogs and Toads: Frogs are indicators or environmental health and students learn about factors that are contributing to their decline. They learn how sound is used by frogs to find each other and take a hike to find frogs.
The Bear Facts: Florida Black Bear (Available September through February): Bears are common in Central Florida and students should learn about this magnificent native carnivore and predator. Through an educational game, students learn what a bear eats and needs to survive in Florida. Students travel the TLNC trails finding items that a bear would use to survive. Students conduct a discussion on what all living things need to survive and a bear's specific needs. Through examining bear artifacts such as skull, claws, scat and more, students learn about bear adaptations or characteristics that make them such good survivors in Florida habitats.
What Lies Beneath: Students investigate the Floridan aquifer using a groundwater model. This model helps students understand how groundwater moves, springs flow and pollution travels underground. They learn about the soils of Lake County and perform percolation tests. In addition, they test the waters of Trout Lake to determine what can live there. Students will construct a micro-habitat after learning the components needed for it to function.
Wondrous Watersheds:  Earth Systems—the Water Connection: Using an augumented-reality watershed model, students learn about watershed functions, point and non-point pollution and best management practices or BMPs to protect our surface water. Students assemble a watershed floor puzzle and assume the role of home and business owners in our watersheds. Live frogs and toads, and a game of survival, help students understand why amphibians are good indicators of water quality. In addition, they test the waters of Trout Lake using test strips and macro invertebrates to determine what can live there.
Water World: Using dip nets students collect and record the macro invertebrates found in Trout Lake. By travelling back in history, students complete an activity that teaches about the value of water and difficulties encountered by early settlers in obtaining water. Students estimate the water found on earth, what percentage can be found in many common foods, and how much water is found in our bodies along with how it keeps us healthy.
---
To Schedule a Field Trip
Call 352-357-7536 or Contact Shannon Lusk at tlnc.info@gmail.com for complete program information and availability.
---
In-School Programs
Since many schools can't come to the Trout Lake Nature Center, we have developed programs that can go into the classroom. Programs are designed to be conducted for grade levels on a class-by-class basis not as large group activities.
The subsequent protocols are followed by staff and volunteers that visit classrooms:
TLNC staff and volunteers are masked for all presentations. Only exception is if during presentations, the speaker has enough physical distance to drop their mask for better hearing.

Although we prefer to set up in one location and have students rotate through the presentations, we understand that in some schools we will need to travel from classroom to classroom. Typically, in most schools we are provided a "lab" cart to place our materials so we can move from room to room.

For some presentations, we need to use the school's computer and projector system. We bring our files on a USB drive for placement on the school systems.

All students must be masked and remain seated at appropriate physical distance from our folks. This will protect students, teachers and us.
The following programs can be scheduled for your classroom or school:
Interview a Manatee:  Students acting as reporters interview a manatee puppet about the unique adaptations that manatees have to survive. They also learn about the resident Lake County manatees and how they can help to protect them.

Soils:  Students learn about different soils, how soils are made, and why they are important. This program uses bagged soil samples for student to complete an inquiry lesson.

Bernie the Bear Puppet Show:  This program must be set up in one location since the puppet theater is not portable. "Bernie" tells students about Florida Black Bears, their habitats, characteristics and how to live with bears.

EnviroScape or Groundwater Model:  A three-dimensional model teaches students about watersheds, pollution and best management practices. Cocoa, sprinkles, and drink mix are used to pollute the watershed and students "rain" on the watershed to learn about the impacts of pollution. Or, a model resembling a slice of the ground beneath our feet, teaches how groundwater moves and how Florida's aquifer systems work. The model is "polluted" to show how pollution travels and the interactions between surface and ground water systems. Choose one model to be used with your students.

What is a Reptile?:  Our education snakes and other artifacts are used to teach about what makes a reptile a reptile. Because of the use of live snakes no more than 4 class presentations can be conducted in one day.
---
To Schedule a Presentation
Call 352-357-7536 or email tlnc.director@gmail.com to schedule a presentation.